Hi! My Name is Ana Bean and I am
ON A MISSION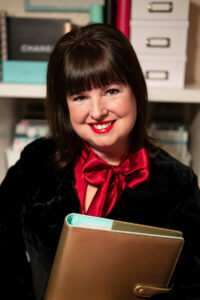 My Mission
My name is Ana Bean and I am ON A MISSION! It is my mission in life to do my best to make the world a brighter place! From simple acts of kindness, like smiling at strangers to encouraging others to believe in themselves and chase after their dreams. My heart's desire is to make a difference in the lives of children too! 10% of the profits from the sales of my sticker books are donated to making a difference in the world. You can follow me on social media YouTube to see how YOUR purchase is making a difference! I can't thank you enough for all your support. Blessings to you!
My story of how I stumbled across The Happy Planner…
I have always been a paper planner my whole life! I love making lists and checking them off. Planning and making lists are how I keep my mind clear and my life organized. My friends call me "The Action Item Queen". LOL! I am a busy mom, entrepreneur, volunteer and wife, planning is essential! Thankfully to The Happy Planner they created this amazing way for us to plan creatively. I LOVE decorative planning it's the perfect creative outlet for me.
At the end of each year, I would excitedly go to Office Depot to pick out my new planner. It was basically the same planner each year with a different design on the cover. In 2018 I stumbled across a Happy Planner on the stationery isle in Ross. The cover was so beautiful! I wasn't sure about the vertical layout but ended up falling in LOVE with it (of course, right!?!?!). I had no idea what was about to be in store for me and my love of planning.
O BOY! STICKERS!!!! STICKERS!!! STICKERS!!! I want all the stickers! I have been obsessed with paper and stickers my whole life. Never would I have dreamt that my passion and career would be paper and stickers! It is an absolute dream come true that I get to do this professionally. And to think that if my career of almost 30 years hadn't come to an end, I would not be living my passion. That's a story for another time.
I cannot thank the amazing women of our planner community enough! The love and support you have shown me absolutely overwhelms my heart with love and joy. YOU MAKE MY HEART HAPPY!
I am so thankful to my amazingly talented, handsome, smart, loving, kind husband for supporting my dreams. We've been married for almost 30 years and still really like each other a lot! I'm truly so blessed.
Thank You Jesus! You are my Lord and my mighty, mighty King!